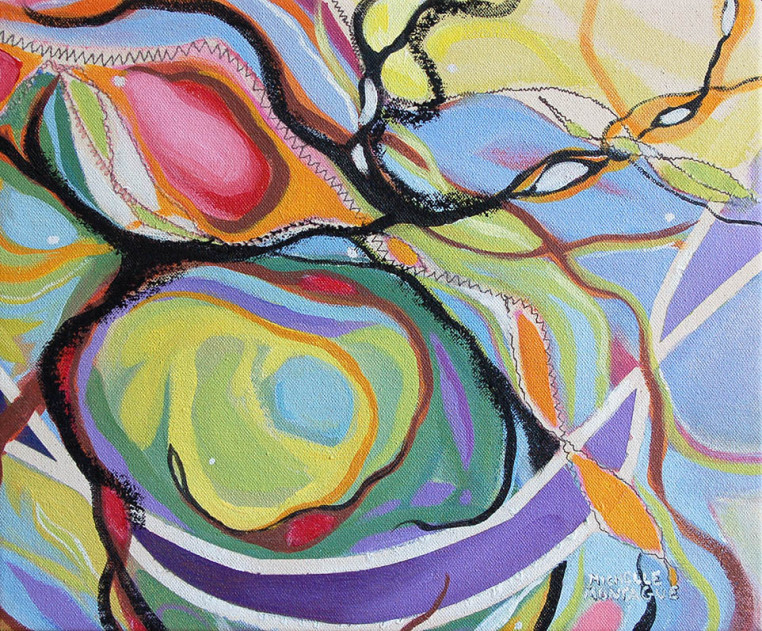 Looking back on my years as an artist, I sometimes find myself asking "How in the world did I end up here?" or "What decisions have led me to this point in life?". Though I'm unable to recount every decision or detail up to today (besides I promised myself that this would not be a long post), I would like to share with you some of the more influential moments which have started me on this path. I believe that we are all born with artistic ability. People laugh when I say this, but I honestly believe this is the truth. Children are proof of that ability. The first thing children do is interpret the world they see, through song, dance, drawings, role-playing you name it. They create stories and are eager to share their discoveries with the people they love. It's how they learn and express the things they see. So what happens when we get older? Who knows, life happens, but little by little we put away such things. Not all things are "childish" or should be put away. If a child has a strong desire to build or create, then it's a matter of nurturing their interests. Maybe the child is a musician, a painter, a poet waiting to come of age. And when they do, a paradigm shift may occur, influencing future generations.
What's the point of living if you can't do the things you love?
The person who said this to me years ago did so only in passing, but it stuck with me. When I think of this statement I'm reminded of why I chose to be an artist. However the path isn't easy. Becoming an artist seemed like a natural fit. But the biggest hurdle on this path was me. From a very young age my artistic interests were encouraged mostly by teachers and some family members. I excelled in visual arts in high school, but I never set out to be an artist. Being able to draw and paint was just a part of me. The thought of not creating didn't cross my mind.  However upon graduating high school in 1996, my family couldn't afford to send me to art school or university for that matter so I took out student loans and went to college to study business administration, graduating in 1999. Like so many people, life happened. I couldn't create – With the pressure of paying off the student loans, bills etc. I was working to survive. During those years it felt like a part of me was lost. That was until the year 2000 when I picked up the paint brush and started painting.
Hello, is it me you're looking for?
Painting again was like being reunited with an old friend – surreal at first, but eventually you pick-up where you left off. One day, with encouragement from my grandmother, I submitted my works to the Human Rights through Arts Exhibition to be juried and was accepted. My reason for participating at the time was that it seemed to be a worthy cause – to bring human rights awareness through art. On the opening night of the exhibition, people observed my paintings, asked questions and were positive. Viewers added their own stories and interpretations to the work. It was wonderful! I felt a sense of euphoria. And it was in that moment that I knew this is what I wanted to do. Realizing this, I felt reborn; I had finally found (or more like re-discovered) my fit. In the years that followed I painted vigorously, with a sense of urgency, experimenting with several art media, styles and subjects.
I eventually signed-up for night courses at Ontario College of Arts and Design (now OCADU) and when I reached my course limit I enrolled in the Fine Arts program as a mature student. Enrolling as a mature student actually worked to my benefit, because I had a better appreciation of the experience, also since I was working; I was able to pay for the entire program myself. 
The wonder years
Between work and school I submitted my paintings to several galleries and juried shows. I was one of the few students in my class exhibiting. I figured it's better to start approaching galleries while in school that way the transition to the art world would be easier after graduating. I think a lot of students fail to realize the importance of setting up contacts while in school, making the transition to the art world more difficult upon graduating. An instructor even advised us that if you don't start exhibiting while in school you'll never do so after graduating especially if there's the added pressure of finding work in order to pay off students loans. There is certainly truth in what he said. By graduation in 2007 I already had a steady network of galleries and public spaces to show my artwork.
Early in my artistic career my works were accepted into exhibitions, but a lot of times not. Going through this experience was invaluable because I had better appreciation of the opportunities that came my way. The rejections were very hard, but I've learned that with something as subjective as art not everyone will like your work. Rejections are not personal. With galleries, collectives, art guilds etc. it all comes down to value systems and fit. What matters is that you believe in yourself. When I started to take myself seriously as an artist and truly believe in my abilities, others started to do so as well. I researched galleries beforehand to make sure my work was a good fit. I sought guidance from experienced artists, curators and other members of the art community. Lastly I slowed down and started to paint with purpose – which is to bring people together through art. Afterwards things began to fall into place. This was when I really started to come into my own as an art professional. Experimenting with different media, challenging myself.

Today, I recognize that being an artist is not fleeting, it's a vocation. As you mature so does your work. Above all it's a path where you end up learning more about yourself. I'm still learning.